WHY BOOK DAVID?
David's audiences laugh, learn and come away with useful tools and a new perspective.
David and his staff focus on you and the needs of your attendees and will make you look like a star.
Pre-program questionnaire and consultation to ensure David's customized content addresses your own specific situation.
Article for your newsletter, website or publication.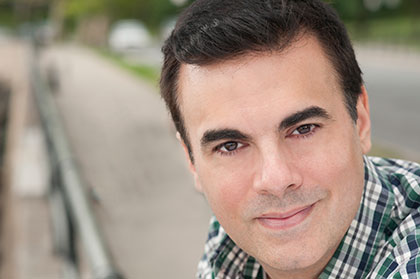 SELECTED CLIENT LIST
US Department of the Interior, Bureau of Ocean Energy Management, Washington, DC
US Department of the Interior, Office of Surface Mining, Washington, DC
G-CASE, Fall Conference, Savannah, GA
St. Joseph's College, Long Island, NY
College of Coastal Georgia, Brunswick, GA
New Jersey Disability Pride Parade, Trenton, NJ
Jones County (GA) Board of Education
The Binghamton University Forum, Binghamton, NY
Wayne County Board of Education, Jesup, GA
DDTI Conference, Durham, NC
NC Council on Disabilities Conference, Greensboro, NC
Coffee County (GA) Schools Convocation
Randolph Community College, Asheboro, NC
Floyd County (GA) Board of Education
Vance-Granville Community College, Hendersonville, NC
GA District 14 Special Education Directors Meeting, Helen, GA
GA District 15 Special Education Directors Meeting, Saint Simmons, GA
Chatham County Special Education Teachers Conference, Savannah, GA
Greater Latrobe Schools, Latrobe, PA
Moravian Academy, Bethlehem, PA
TESTIMONIALS
David Harrell was a dynamic speaker for our Secondary Transitions Fair held for high school students with disabilities. He captivated their attention, delivered a powerful message, and challenged their thinking about believing in possibilities. Students rated David's presentation as one of their top choices from a list of 15 sessions provided during the day.
One of the most moving and inspirational keynotes that G-CASE has ever experienced. David has a true gift of touching people's souls. His autobiographical story had the audience laughing to crying through the phases of his life experiences. One of his themes, finding the flip side of limitations, truly impacted our leadership audience.
David Harrell's presentation was captivating, engaging, inspirational and powerful. His message is one that transcends age, time and place. It is a message of seeing the possibilities rather than the impossibilities, creating your own destiny rather than allowing others to create it for you; the power of perseverance, dreaming big and in color and working hard to make those dreams a reality. It's a message of the beauty of diversity, and the importance of tolerance and understanding. Our conference attendees won't soon forget his powerful message and the wonderful person who delivered it!!
We loved David! The speaking event brought in more than 70 people (and for us, that is a good turnout) and everyone had such positive things to say about David. He is such a charismatic and engaging speaker! His speaking event was one of the most successful that we have ever hosted here at CCGA. Students, staff and faculty loved it.
His message really hit home with the audience, who gave him a standing ovation. This program is perfect for an organization that wants something different from the "routine" speaker, but a program that also conveys a lasting message about diversity. David makes the poignant point that being normal includes many differences.
David Harrell's presentation is the definition of "awesome." Through his superb acting, and in his own words, David gets his message across without being the least bit preachy, maudlin or self-serving. Because he uses a great deal of humor in his performance, the audience is completely captivated. You could have heard a pin drop when he was at the College of Coastal Georgia, and that's rare for our lively student body. He should be required viewing wherever he performs!
David connects with a whole range of emotions in the audience; I laughed, teared up and even got angry. Just as David learned in life, we learn by the end of the play that being different is not limiting at all; a true lesson we should remember in the business world as we strive to succeed. David hits a home run in writing and on stage!
Immediately from the start of his program, David Harrell captured and wowed our audience with his inspirational story of how he has been able to meet his challenges with dignity and lots of humor! David is a charismatic individual who delivers a powerful message.
David Harrell shares part of his heart and soul with the audience. He lets the audience step out of their comfort zone to get a glimpse of the struggle to find himself while learning the truth about life with a disability. In his presentation, David shares his joys, his passions and his struggles all with a good dose of humor. Thank you David for inviting us in…
Mr. Harrell's presentation is an exquisite introduction to the world of diversity as most limit themselves to race. He shows the core understanding of the human condition of wanting to belong and how difficult that can be if there are differences. I look forward to having Mr. Harrell back to once again challenge, entertain, and educate our faculty and students.
When David brought his presentation to Randolph Community College, I was amazed at how his humor, thought-provoking improvisation, and dramatic interpretation spoke to all age groups, not just about overcoming a disability, but about finding yourself and becoming the best and most real you that you can possibly become! We were not only fabulously entertained, but also greatly motivated and inspired.
David's presentation is a captivating and transformational journey. What starts out as one man's challenge to accept his own strengths and limitations becomes a compelling charge to all of us, challenging us to look more closely into our own lives. Also, it's entertaining as hell.